Why Diamond Studs Make Great Gifts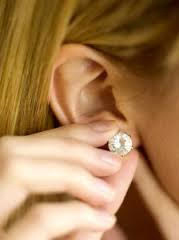 Diamond stud earrings never go out of style. Whenever someone asks for a gift suggestion, the first things I'll suggest are pearls (see my earlier blog post) and diamond stud earrings. You can wear them everywhere, from the very formal wedding to every day around town and even to the beach.
I'm always happy to exchange diamond stud earrings for a larger pair. In fact, people do that all the time. If someone buys a pair of diamond studs from me now, and 5 years from now they decide they'd like a larger pair, they can trade-in the first pair and whatever they paid for them we will apply to the larger pair. It's that simple.
I have customers who have done this three or four times. I recently sold a pair of 2.00 carat each diamond studs to someone who started out years ago with a pair of .25 carat each studs.
Many people have said to me over the years that the quality of the diamonds in a pair of diamond studs is not important because they are earrings, not engagement rings. I see what they're saying, but I will never agree that the quality is not important, because it is.
When you see someone wearing beautiful diamonds, whether in a ring, earrings or a tennis bracelet, you are going to notice. Yes, it's true that size matters, but quality also matters. There is a system for grading the quality of diamonds and fortunately, there is a wide range in what is considered to be a very nice quality. This way, we can usually hit whatever price point my customer is looking for.
As we head into the spring, there are all kinds of reasons to buy jewelry. Graduations are just one. I've sold diamond studs for women graduating from medical school, and even to those graduating from nursery school. Whether it's a graduation, anniversary or birthday, make a lasting and noticeable impression – give your loved one a pair of diamond studs.
– Gary