The Single Best Part About My Job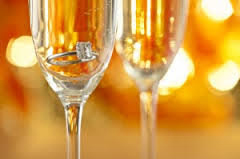 Every time I deliver a new engagement ring to a guy who is about to get engaged I make a request. Every time. And the request is this, after the deed is done and he is now a happily engaged man, please call or shoot me an email and let me know how it all worked out. I want to know if the ring fit properly, what was the reaction, etc.
99 times out of 100 I'll get that call or email and that is the single most fun part about my job. Usually the response is overwhelming. I'll hear about where they were when they got engaged. Who was there. Sometimes I even get pictures, usually with a young lady that I never met before wearing a beautiful ring that I just delivered. Sometimes I hear that the ring size was a little large. When a guy buys an engagement ring he often does not know his girlfriends finger size (who would know such a thing?). For that reason I usually suggest that if we have to guess the finger size that we should guess a little on the large side. It would not do for him to go through the trouble of getting down on one knee to propose, only to have her be unable to wear her new ring because the finger size was too small.
In the interest of full disclosure I must admit that this has happened a few times too. By the way, we can adjust the finger size in one day. Sometimes I'll hear things you couldn't make up. One guy slipped the ring into his girlfriends glass of champagne and waited for her to discover it. Needless to say she swallowed it. There wasn't a lot of sage advice that I could give him about that one.
I never lose sight of the fact that I am seeing people at a very exciting time in their lives and I love hearing these stories. By the way, the holidays are coming up and that is a big time for engagements.
Happy Thanksgiving.
Gary